1
The diagram below is an illustration of the reproductive system of a mammal. Study the diagram and use it to answer questions (a) and (b)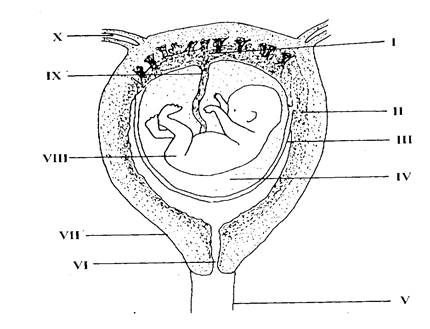 (a) (i) Identify the structure illustrated in the diagram. [1 mark]
(ii) Name the parts labelled I-X. [5 marks]
(iii) State one function each of the parts labelled I, IV, V, VI and X. [5 marks]
(b) (i) Explain briefly how the part labelled VIII is adapted to life. [6 marks]
(ii) Describe briefly the process in humans that gives rise to the formation of the part labelled VIII. [8 marks]
ANSWER
1(a) (i) Identification of structure A mammalian/human embryo/foetus in the womb
(ii) Label of parts
I. Placenta
II. Chorion
III. Amnion
IV. Amniotic fluid
V. Vagina/birth canal
VI. Cervix
VII. Uterus/womb/uterine wall
VIII. Embryo/foetus
IX. Umbilical cord
X. Fallopian tube/Oviduct
(iii) Functions of parts labelled I, IV, V, VI and X
I – Exchange of materials between mother and embryo;
IV – Protects the embryo from shock/damage
V – Opening for passage of sperms into the female/delivery of the foetus.
VI – A gateway to the uterus/womb/for passage of sperm/blood/secretes mucus to keep the vagina lubricated/allows passage of foetus.
X – Site for fertilization/receives matured egg/ovum/passage of egg into the uterus.

(b) (i) Adaptation of part labelled VIII/embryo to life The embryo is adapted to life by the placenta; a structure that allows the embryo to remove waste products; through the mother at the same time obtain oxygen; water and digested food/antibodies; presence of amniotic fluid; serves as shock absorber/protects it against injury/damage; highly vascularized umbilical cord; that connects mother to foetus to promote exchange of materials. Note: Structure and function must tally to score.
(ii) Process that leads to formation of part labelled VIII/Embryo/Foetus The process by which the embryo is formed is sexual reproduction; during mating; the male human introduces the erect penis into vagina of a female human; thereby ejaculates/releases sperms into the vagina; sperms swim to the uterus through the cervix; then into the oviduct/fallopian tube to meet a matured egg; which has been released from the ovary/ovulation occurs; sperm(s) fertilize(s) the egg/ovum to form a zygote; which migrates to the womb/uterus; becomes and gets implanted onto the inner lining of the uterus; This develops into the structure labelled VIII/embryo/foetus.
2
3
4